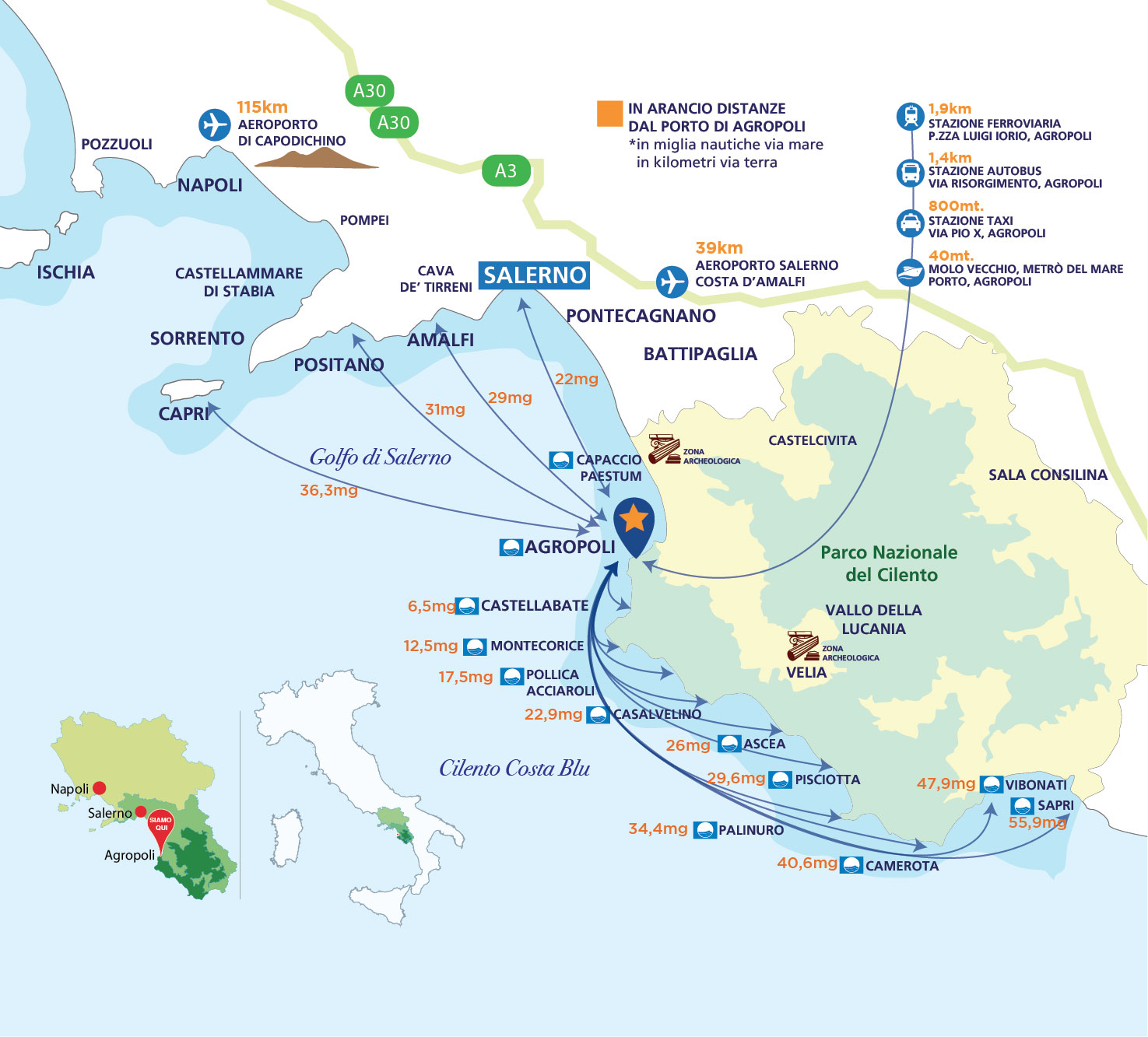 WHERE WE ARE
–

HOW TO REACH
BY SEA
Coordinates 40 ° 21'33 N, 14 ° 58'95E.
Approach: to enter the port of Agropoli direct to Punta Fortino to starboard of the lighthouse from the unmistakable Venetian architecture, complete with a white blackbirds. Upon entering, keep to starboard. The access time is continuous. The port is a natural inlet protected by an outer breakwater at the root of which lies the shore quay and a pier.
The seabed is sand and rocks from 1 to 5 meters.
Light and lighthouses: lighthouse 2660 GPR2, white lambi periodic 6 sec., range 13 mg. Fortino NW tip of the city 2661 light flashes green, periodic 5 sec., range 5 mg. The head of the pier breakwater 2661-2 red light taillight fixed, brought 4mg., on the outer breakwater head.
BY CAR
From Naples and Salerno follow the highway A3 SA / RC exit Battipaglia. Take the SS 18 following the signs for Agropoli. Exit at Agropoli Nord and follow the directions for Porto
BY TRAIN
Agropoli railway station is 'Agropoli-Castellabate' and can be reached with regional and intercity trains. Soon the high speed of up to Sapri direct stop in Agropoli will be active (during 2016)
BY BOAT
The Metrò del Mare (hydrofoil) will be active from July 2016 with the following lines:
Line 1: Salerno – Cilento Coast, with connections to / from Salerno to Agropoli, San Marco, Acciaroli, Casal Velino, Pisciotta, Palinuro Camerota; active line on Saturday and Sunday.
Line 2: Cilento-Amalfi Coast, with connections to / from Salerno to Agropoli, San Marco, Amalfi, Positano, (connection to Capri); It operates from Monday to Friday online.
Line 3 / A: Cilento (Sapri- Capri – Naples) with cCollegamenti A / R from Sapri to Camerota, Pisciotta, Casal Velino, Capri and Naples; active on Tuesdays, Wednesdays and Thursdays line. Line 3 / B: Cilento (Sapri – Capri – Naples) with connections to / from Sapri Palinuro, Acciaroli, San Marco, Capri and Naples; Active on Monday and Friday.
BY PLAN
The main airport of Campania is the Naples International Airport which is 112km from Agropoli (1:38 a.m." by car). From june 3 will be possible to reach even the nearest Agropoli Salerno-Costa d'Amalfi Airport which is 36km from Agropoli (45" by car) with departures from Milan, Ibizia, Malta and Corfu
Aeroporto di Salerno-Costa d'Amalfi